The Club Kawasaki Challenge is back for 2022! 
March Competition
Any Challenge selfies submitted before the 8th April will receive DOUBLE POINTS and, we'll choose one lucky winner to receive a Kawasaki Sports Watch.

This Kawasaki Sports watch, much like the Kawasaki sports bikes, is built to never miss a beat. The alarm function gets you up and rolling while the digital stopwatch is set to capture that time attack.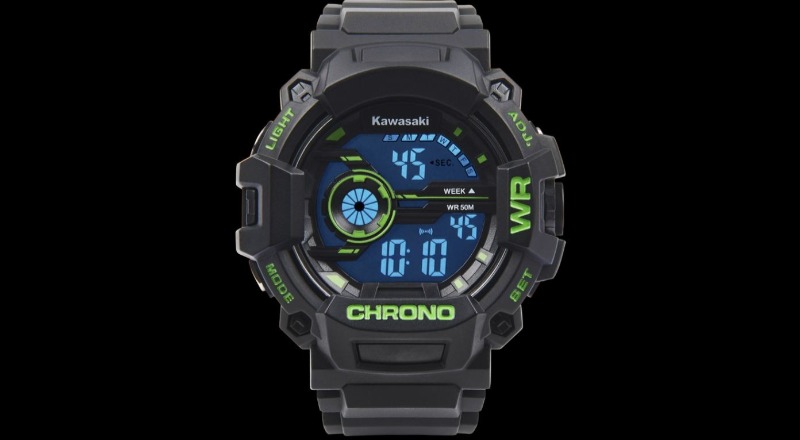 All test rides must be booked in advance through the sign-up form for the relevant dealer. The test rides will be done in groups on a guided route arranged by Focused Events. If your local Kawasaki dealer isn't included in the list currently, please return to the site at a later date as new events will be added to the calendar.
Once you have completed the sign up form, Focused Events will contact you with further details and to confirm your test ride slot.

Ross Burridge, Head of Marketing & Racing Department at Kawasaki UK:
"Our Dealer Demo Days events last year were a huge success, with hundreds of bikers across the country visiting their local Kawasaki dealer to enjoy the chance to ride the latest models. Since then, we've been inundated with requests asking if it was running again for 2022, so we're very pleased to confirm the first dates.
Each event will showcase a wide array of machines, from the versatile Versys 650 to the supercharged Sports Tourer Ninja H2 SX, and the all-new modern classic Z650RS. We're looking forward to seeing everyone this summer."

View our calendar below to find your local dealers Demo Day event:
Rochdale Kawasaki - Saturday 15th April
Address: Water Street, Rochdale OL16 1TL
Tel: 01706 716650
SIGN UP FORM COMING SOON
Millenium Motorcycles - Sunday 16th April
Address: Aspinall Place, Thatto Heath, St Helens WA9 5PE. Tel: 01744 616161
SIGN UP FORM COMING SOON
Kirkcaldy Kawasaki - Saturday 23rd April
Address: 149 Rosslyn Street, Kirkcaldy KY1 3HT
Tel: 01592 656910
SIGN UP FORM COMING SOON
Shirlaws Ltd - Sunday 24th April
Address: Ker-An House, Wellington Cir, Aberdeen AB12 3JG. Tel: 01224 584855
SIGN UP FORM COMING SOON
Greenham Kawasaki - Saturday 30th April
Address: Lindenmuth Way, Newbury, Thatcham RG19 6HW. Tel: 01635 916464
SIGN UP FORM COMING SOON
Bristol Kawasaki - Saturday 7th May
Address: 2-12 Bath Road, Bristol BS4 3DR
Tel: 0117 977 2272
SIGN UP FORM COMING SOON
Bridge Motorcycles - Sunday 8th May
Address: Alphin Brook Rd, Marsh Barton, Exeter EX2 8RG. Tel: 01392 260200

SIGN UP FORM COMING SOON

Edinburgh Kawasaki and Kirkcaldy Kawasaki - Saturday 22nd May
Address: The Green Welly, A82, Tyndrum, Crianlarich FK20 8RY. Tel: 0131 348 3271 (Edinburgh Kawasaki) 01592 656910 (Kirkcaldy Kawasaki)
SIGN UP FORM COMING SOON

Completely Kawasaki Gloucester - Saturday 28th May
Address: Meteor Business Park, 4 Vernon Court, Cheltenham Rd E, Gloucester GL2 9QG. Tel: 01452 713123
SIGN UP FORM COMING SOON
Wigan Kawasaki - Sunday 29th May
Address: 5 Gathurst Rd, Orrell, Wigan WN5 8QJ
Tel: 01942 218181
SIGN UP FORM COMING SOON
KD Motorcycles & Scooters - Friday 3rd June
Address: 392-396 Blackburn Road, Accrington BB5 1SA
Tel: 01254 231221
SIGN UP FORM COMING SOON

Bolton Kawasaki
- Saturday 4th June
Address: Ivy Road Garage, Ivy Rd, Bolton BL1 6DJ
Tel: 01204 491511
SIGN UP FORM COMING SOON
Holeshot Kawasaki - Saturday 11th June
Address: 19c Sea King Rd, Lynx Trading Estate, Yeovil BA20 2NZ. Tel: 01935 513888
SIGN UP FORM COMING SOON

GT Motorcycles - Sunday 12th June
Address: 10-12 Elburton Road, Plymouth PL9 8JQ
Tel: 01752 485000
SIGN UP FORM COMING SOON

Cobb & Jagger - Saturday 18th June
Address: Quayside, Salts Mill Rd, Shipley BD18 3ST. Tel: 01274 591017

SIGN UP FORM COMING SOON

A&D Motorcycles - Sunday 19th June
Address: Spencer Trading Estate, Rhyl Rd, Denbigh LL16 5TQ. Tel: 01745 815105
SIGN UP FORM COMING SOON

Chris Walker Kawasaki - Saturday 2nd July
Address: 200 Harlaxton Road, Grantham NG31 7AQ
Tel: 01476 850644

SIGN UP FORM COMING SOON

Derby Kawasaki - Sunday 3rd July
Address: Chapel Row, Borrowash, Derby DE72 3LR
Tel: 01332 208700
SIGN UP FORM COMING SOON
Wheels Kawasaki Leicester - Saturday 9th July
Address: 1-3 Littleton Street, Leicester LE4 0BP
Tel: 0116 464 6790
SIGN UP FORM COMING SOON

The Potteries Motorcycles & Scooters - Sunday 10th July
Address: Waterloo Road, Burslem, Stoke-on-Trent ST6 2EL. Tel: 01782 900100
SIGN UP FORM COMING SOON
Aylesbury Kawasaki - Saturday 16th July
Address: A41 Bicester Rd, Westcott, Bicester, Aylesbury HP18 0JX. Tel: 01296 655999
SIGN UP FORM COMING SOON
Laguna Motorcycles - Saturday 30th July
Address: Hart St, Maidstone ME16 8RA
Tel: 01622 681765
SIGN UP FORM COMING SOON
Coleraine Kawasaki - Saturday 6th August
Address: 5B Mountsandel Road, Coleraine BT52 1JD
Tel: 028 7032 7517
SIGN UP FORM COMING SOON

Orwell Motorcycles, The Copdock Show - Sunday 4th September
Address: The Copdock Show, Trinity Park, Ipswich IP3 8UH. Tel: 01473 257401
SIGN UP FORM COMING SOON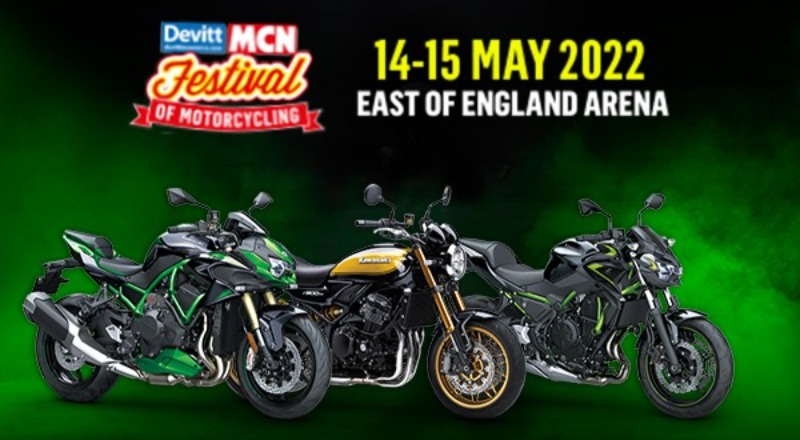 MCN FESTIVAL OF MOTORCYCLING
The MCN Festival of Motorcycling is back and bigger than ever! 
Test ride the latest 2022 bikes:

 Hundreds of test rides will be available to try over the weekend

Non-stop racing action: 

The Live Action Arena will be packed with non stop day-time racing action

Looking for new riding gear?

 Find great deals and bargains on biking kit & accessories

Stunt shows:

 Watch jaw-dropping stunt displays

Club Zone:

 Browse the UK's best club displays

Camp for the weekend:

 Grab your tent and make a weekend of it! Campers get early entry into the show plus access to the evening entertainment

NEW FOR 2022:

 Silverstone Auctions: A live auction of classic and contemporary motorcycles
British Superbikes - Opening Round
15-17 April | Silverstone

Showcasing the best biking talent, Bennetts British Superbikes returns to the National Circuit Easter weekend with the riders raring to kick start the new season.
Club Kawasaki members will be able to enjoy a weekend ticket to any of the eleven championship rounds, where you can watch all the action live as it unfolds. 
BUY DISCOUNTED TICKETS
Colombres Rider & Challenge
20-24 April | Asturias, Spain
Member event posted by: Kawasaki Kid. We enclose all information regarding the 1st Colombres Rider 2022 open for modern motorcycles and that will be held in Colombres (Asturias-SPAIN) on April 20th, 21st, 22nd and 23rd. As a highlight on Saturday, April 23rd, the COLOMBRES CHALLENGE will take place, the challenge of riding 311 miles in a single day through the best and most demanding high mountain passes of the Picos de Europa National Park with the only help of a roadbook that the organization will provide you.
NORTHERN IRELAND TOUR 2022
29 April - 8 May | Northern Ireland
This event has been posted by local Ambassador: 
Burchy.
 A small group of us are planning a gentle tour of Northern Ireland.  Leaving from Birkenhead om 30th April, into Belfast for a couple of nights.  Then 2 nights in Coleraine, three nights in Enniskillen before getting the boat back to Liverpool.
Join the conversation here: 
VIP Hospitality - WorldSBK - Donington Park - 17 July
BSB Hospitality at Brands Hatch - July & October